A Beginner's Guide to Chainsaw Safety
A chainsaw is one of the most convenient and effective tools that you can add to your garden equipment arsenal. However, many people are understandably apprehensive about using one for the first time.
If used incorrectly or without the proper preparation, a chainsaw can be an extremely dangerous machine.
This article will help you understand how to avoid these dangers by using your chainsaw correctly, ensuring you become a safe, efficient and competent chainsaw user.
The majority of chainsaws will not arrive assembled, which gives you a fantastic opportunity to get hands-on with the machine and learn your way around it.
Fitting the bar and chain is easy - you simply need to remove the chain cover, slide on the guide bar, wrap the chain around the bar and then re-attach the chain cover and tighten the chain to the right tension.
Be sure to do this with protective gloves on to avoid cutting yourself.
You can find a more detailed guide on this process here.
With your saw assembled, take some time to familiarise yourself with the controls and safety features.
Some of the most important aspects of your chainsaw include:
The throttle lock and trigger controls, which are located on the rear handle. Without the throttle lock engaged, you will not be able to engage the trigger. This prevents the chainsaw from accidentally starting once the engine is running.
A safety brake located in front of the top handle, which is activated automatically by your wrist in the event of a kick back. A kick back occurs when the nose of the chainsaw bar comes in to contact with an object unexpectedly, sending the chainsaw up and back towards you.
The power switch, which is located close to the rear handle for easy reach when you need to quickly turn the chainsaw off.
Once you feel comfortable that you know your way around your chainsaw, you still have some preparation to perform before you use it for the first time.
What you're wearing is a very important aspect of chainsaw operation and will add an extra layer of protection from the chainsaw itself and any debris you produce as you work.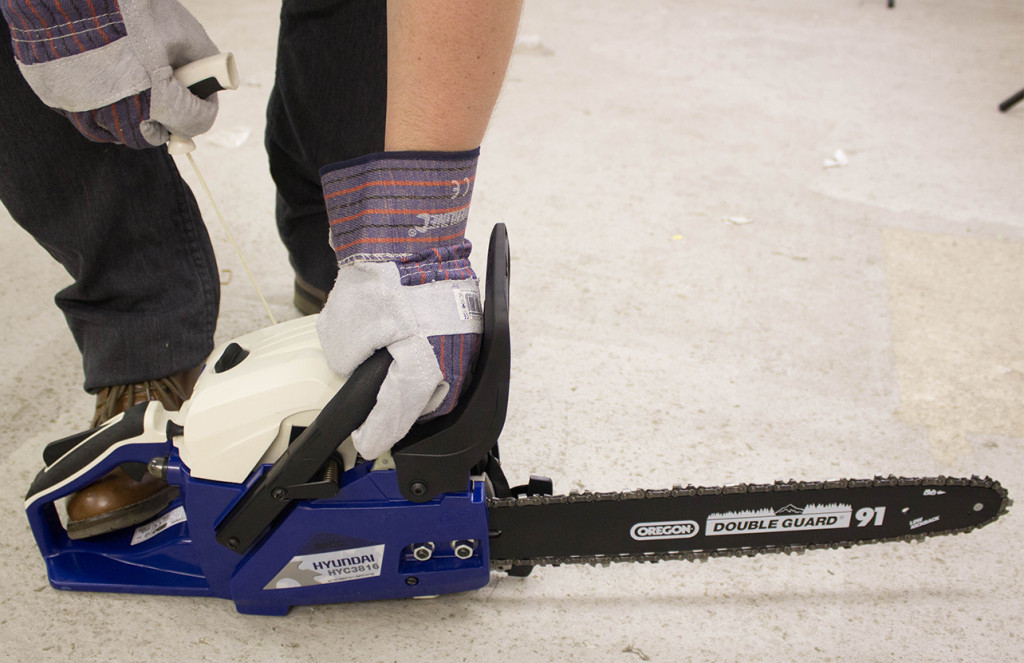 To be fully protected, you should invest in high quality chainsaw protective clothing, which includes a helmet with a visor, ear defenders, gloves, safety boots and trousers.
Protective clothing can be expensive, so if the full kit isn't in your budget, prioritise the gloves and helmet, as your hands and face at the most vulnerable parts of your body.
Make sure to always wear thick, heavy and tough materials on the rest of your body.
With the controls familiarised and the correct clothing at hand, your final task is to assess your working environment.
Clear your garden of any potential hazards, such as objects you can trip over, and plan where you're going to work.
Don't forget to inform anyone around you about where you'll be working so they can leave you space to safely work.
We always recommend that you have a high quality sawhorse to hold the wood in place as you work. This will help you cut without any safety hazards and will also produce a convenient pile of cuttings for you to collect.
When you're ready to start your petrol chainsaw, place it on firm, level ground and put your foot through the back handle to keep it steady.
With one hand on the chainsaw handle, firmly pull the recoil cord as per the instructions in your manual until it starts up.
Although experienced users often start a chainsaw with it in their hands, doing it on the floor is the safest method and an absolute must for novice users.
To begin with, try cutting smaller logs before tackling the biggest pieces of wood in your collection.
Maintain good balance and hold the saw firmly.
For the first few hours of use simply focus on getting a clean and safe cut out of your chainsaw.
The best practices for getting a clean cut on a small piece of timber will also apply to bigger pieces of wood, so master them early.
Keep in mind that using a chainsaw can be a tiring experience and operating one when fatigued is a very bad idea.
Always take breaks during operation and if you become too tired, leave the rest of the job for the following day.
High concentration is always extremely important, so never let your mind wander from the job at hand, or you'll risk being caught out.
With practice, your confidence will build and you can then move on to more challenging jobs, such as pruning trees or construction/DIY work.
You can browse our full range of chainsaws here, and if you have any questions please don't hesitate to contact us on 01437 700123.
Note: Providing you have bought your chainsaw from a reputable manufacturer, you should have a detailed and informative user manual arrive with your machine.
This article is intended to give you an overview of general chainsaw use and you should always consult your manual thoroughly before using your chainsaw.
If in doubt about anything, consult a trained professional.