​Using the New JCB Petrol Pressure Washers for your Outdoor Cleaning!
Keeping outdoor surfaces clean can be a challenge, especially when dealing with tough, difficult stains and dirt build-up after the winter. Petrol pressure washers offer a powerful and efficient solution to clean this up like a pro.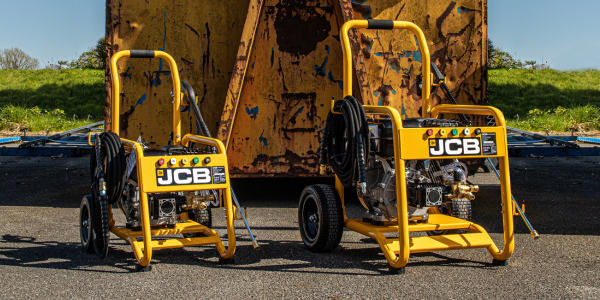 In this Power Site blog post, we'll explore the benefits of using the new JCB petrol pressure washer for effective outdoor cleaning and look at the two new JCB Petrol Pressure Washers- the JCB - 3100PSI / 213BAR, 7.5HP and it's more powerful counterpart the JCB 4000PSI / 276BAR, 15HP pressure washer.
Power and Efficiency
Compared to electric pressure washers, petrol pressure washers offer higher power and efficiency. The JCB pressure Washer , PW15040P, for instance, has a powerful 15 horse power JCB engine that delivers a maximum pressure of 4000psi or 276 bar equivalent and a flow rate of 15L/min. This power allows the pressure washer to clean even the toughest stains on outdoor surfaces such as driveways and patios.
What is flow rate important in a pressure washer?
What is Bar and PSI in a Pressure washer?
-
Portability
Petrol pressure washers are portable, which makes them ideal for outdoor cleaning tasks. Both JCB Petrol Pressure Washers are equipped with a sturdy frame and wheels that make it easy to move around. Additionally, petrol pressure washers do not require an electrical outlet, so they can be used anywhere, even in remote locations.
Suitable for Various Surfaces
Petrol pressure washers are suitable for a variety of outdoor surfaces, including concrete, wood, and brick. They can also be used to clean vehicles, boats, and outdoor furniture. The two new JCB petrol pressure washers the 4000PSI and 3100PSI are both versatile and can be used to clean a range of surfaces.
Durability
Petrol pressure washers are built to last. They are designed with sturdy frames and engines that can withstand frequent use and exposure to the elements. The 4000 PSI and 3100 PSI jet wash models are both built with durable materials and designed to withstand tough cleaning jobs.
Faster Cleaning Time
Petrol pressure washers have a higher flow rate than electric pressure washers, which means they can clean surfaces faster. This is particularly useful when dealing with large outdoor areas such as driveways and patios. With both JCB pressure washers you'll get a substantial flow rate, the mower powerful model, the PW15040P is recommended for professionals, with a flow rate of substantial 15 Litres per minute, whilst the PW7532P is great for heavy-duty use with a flow rate of 10.7 Litres per minute. The flow-rate should be considered for the type of work at hand and also the efficiency of the wash required., which means they can clean outdoor surfaces faster.
A petrol pressure washer is a useful power tool for outdoor cleaning tasks. Both JCB petrol pressure washers are both reliable, efficient and durable. They offer the power and versatility needed to clean a variety of outdoor surfaces. Ideal for professional and heavy-users. With the help of these tools, you can make outdoor cleaning tasks easier and more efficient.
---
Discover the full range of Petrol Pressure Washer from leading brands.