Home & Garden Petrol Pressure Washers
Everyone knows there's no better way to spend a summer evening than in your garden, but because the British weather can be so appalling during the autumn and winter months, you'll probably have quite a bit of cleaning to do once the sunshine arrives.
You could grab a hose pipe, but for the most effective and easy cleaning in and around your garden, you should pick up a petrol pressure washer.
AREN'T PETROL PRESSURE WASHERS JUST FOR PROFESSIONAL CLEANERS?
This is one of the most common questions we're asked when we recommend a petrol pressure washer to home users.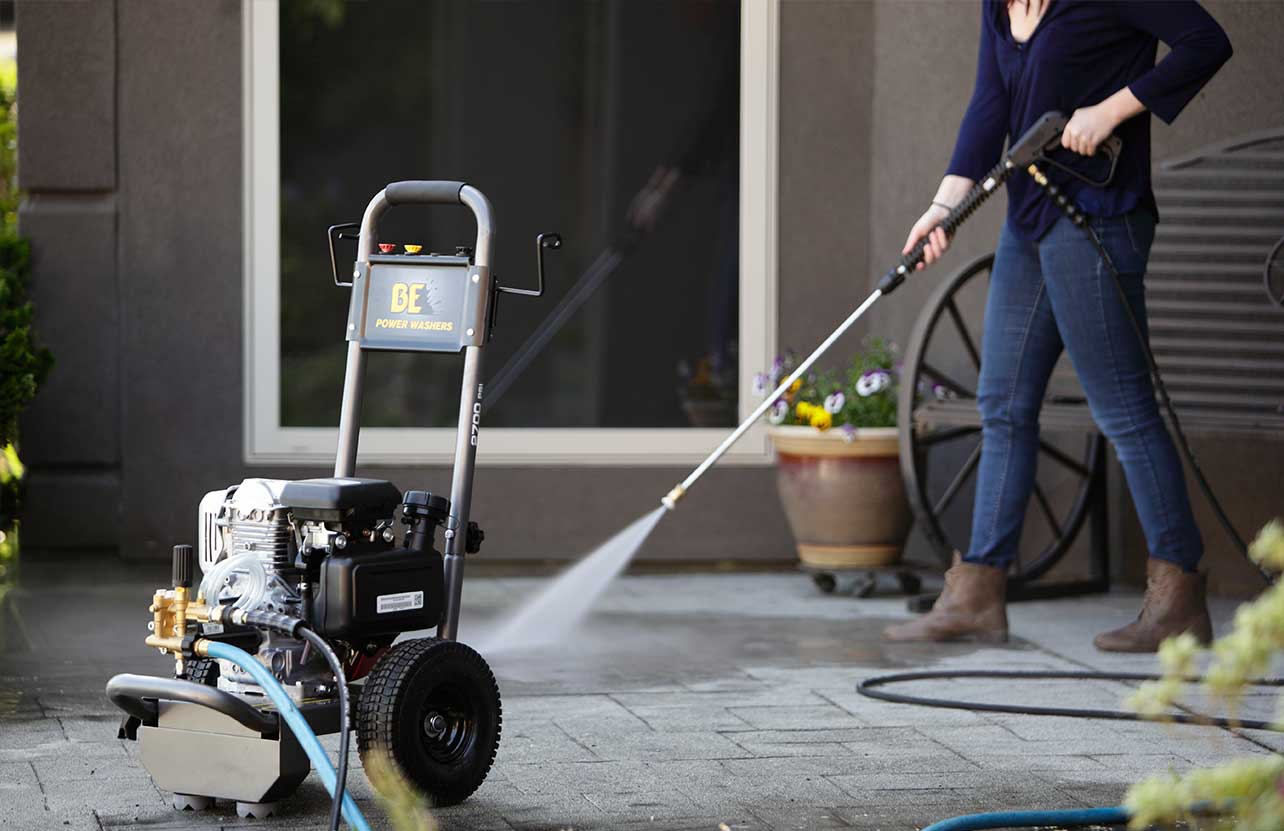 The truth is that a few years ago the answer would have been yes, as they were much more expensive and marketed towards cleaning companies.
In recent years, however, prices of petrol pressure washers have dropped significantly and now there's a huge market for home and garden use.
We even have an entire section dedicated to pressure washers built solely for use around the home.
It is worth noting that domestic pressure washers are not suitable for use in a commercial environment, as they are fitted with Axial pumps which are built to work for around 300 hours.
Professional pressure washers are built with Triplex pumps, which can withstand the challenges of working up to 2000 hours.
PETROL VS ELECTRIC - THE PRESSURE WASHER WAR
It's no secret that you can pick up an electric pressure washer for as little at £80 for the entry level models, so it might seem like a wise move to save some money and pick one of those up instead.
While there's nothing wrong with electric pressure washers for occasional use, they're not built to clean to the same standard as a petrol pressure washer. Not only will it take twice as long to remove the dirt and grime, it might not be up to the task full stop!
"You sell petrol pressure washers, so you would claim that!" you say? Let's take a look at the figures...
For this example, we'll use the B275HA Honda pressure washer, which is the cheapest Honda-powered pressure washer on the UK market.
With a flow rate of 10L/min and a maximum pressure output of 2700psi, it provides fantastic cleaning performance.
It's powered by a 5hp Honda engine, whereas a comparable 1600w electric pressure washer is just 2.1hp. This means that the B275HA petrol pressure washer is nearly 2.5x as powerful - and thus provides 2.5x the cleaning power!
If you value the best cleaning results, there's simply no competition between an electric and petrol pressure washer. It's petrol every time.
PETROL PRESSURE WASHERS ARE EASY TO USE
For many people, the thought of learning how to use a petrol pressure washer can be daunting, but the good news is it's actually very simple.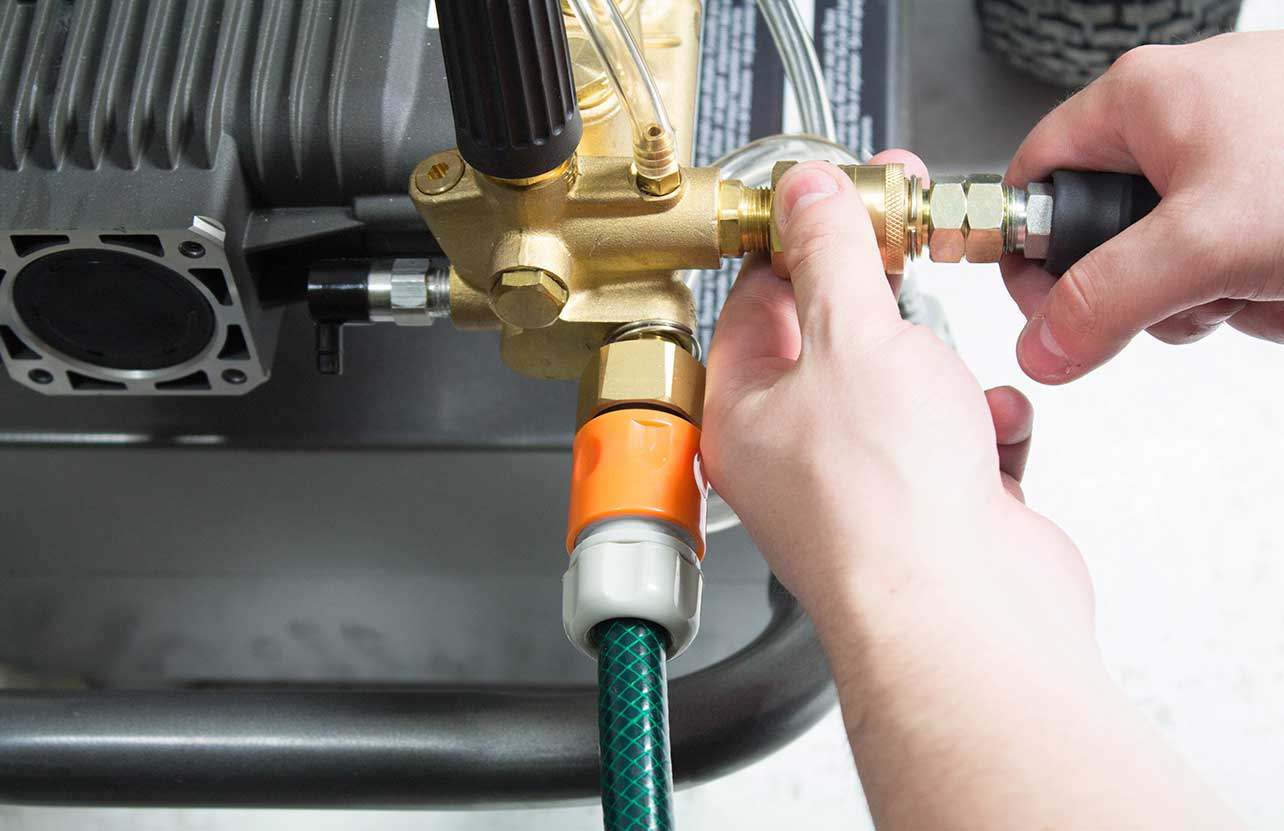 As the build quality of pressure washers have continued to improve, the requirements for getting them started and keeping them running have dropped dramatically.
Each petrol pressure washer will have its own procedure with slight differences, but in general the process is:
Assembling the frame - usually simply inserting and tightening bolts.
Fuel the machine.
Attach the spray gun to the hose, then fit it to the pressure washer.
Fit the water hose to the water inlet.
Choose the right nozzle for the job and fit to the end of the spray gun.
Turn the water supply on.
Start your pressure washer using the fuel valve, choke and recoil pull cord.
These seven simple sets will take perhaps 10 minutes the first time you use your pressure washer, and will be drastically quicker on repeated use.
Hyundai Power Equipment and BE Pressure pressure washers feature a 'Quick Start' guide in the box which will walk you through each individual step in great detail.
CLEANING ACCESSORIES FOR THE BEST FINISH
We've already established that a petrol pressure washer is capable of producing superior cleaning results over an electric pressure washer, but these results can be improved further if you use some petrol pressure washer accessories.
While these accessories are by no means essential, they're great for enhancing the performance of your petrol pressure washer.
Since most people like to keep their car shining, the snow foam lance is always a popular choice with our customers.
With a large capacity of 1 litre, this snow foam lance is more than capable of providing total coverage on everything but the biggest of vehicles.
Once attached to the end of your pressure washer lance, you can apply it a surface within a matter of seconds, with the option to control the spread and flow of the foam for the desired coverage.
Simply rotate the black nozzle to increase or decrease the spread, allowing you to focus the stream exactly where you need it.
The added benefit of using a snow foam comes from the way in which dirt, mud and grime mixes with the thick, mousse-like foam, which then softens it and becomes easier to wash off.
Compared to using a pressure washer by itself, a snow foam lance could cut your cleaning time by up to half.
For cleaning flat surfaces, such as patios, decking and pathways, you can choose from a large selection of Whirlaway Flat Surface Cleaners.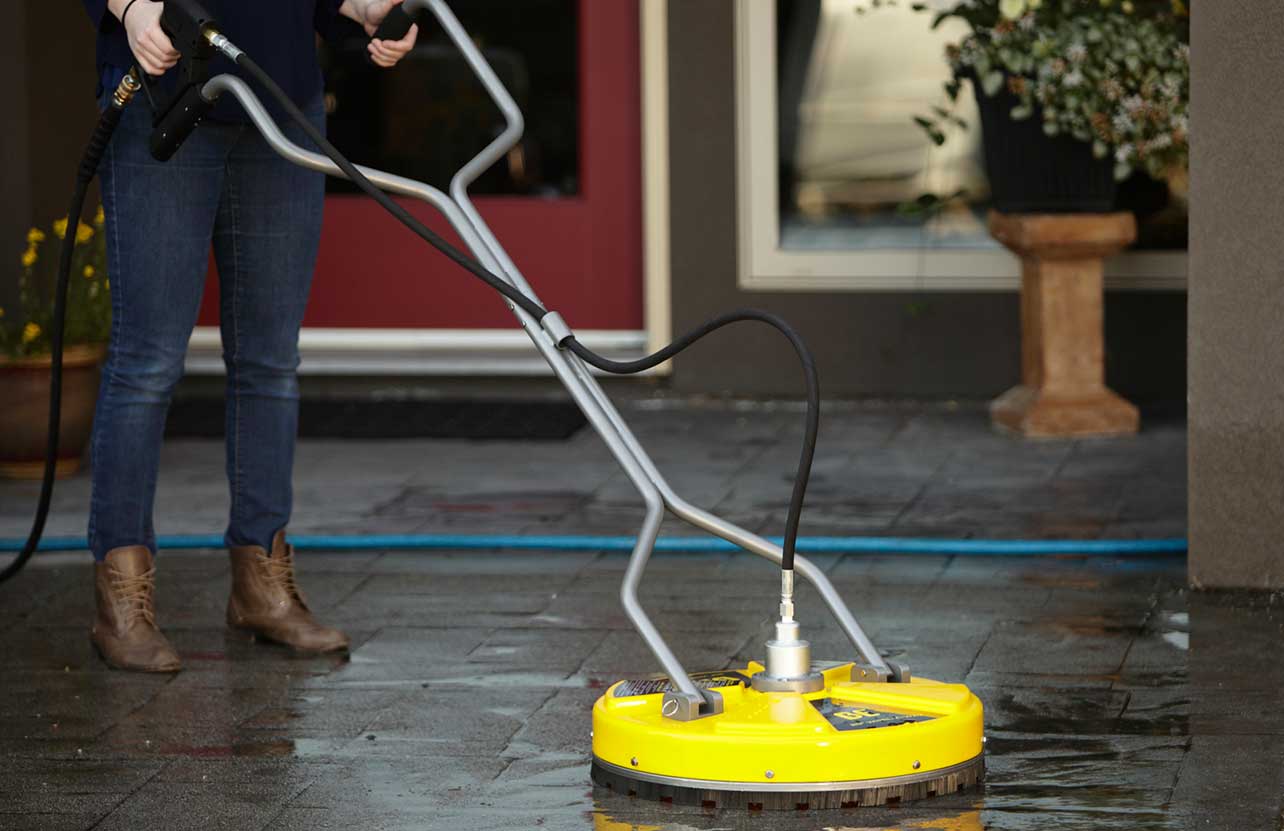 A Whirlaway uses a rotating steel arm which spins fast and evenly, spraying water out from nozzles that are attached at both ends, which can improve your efficiency by a massive 70%.
This method also eliminates the streaking, or 'zebra stripes', that standard pressure washer lances leave on a flat surface. Not only will you be able to finish your job quicker, the end result will also look cleaner and more pleasing to the eye.
You don't need to worry about a Whirlaway causing a mess on your client's property either, as the cleaning head is surrounded by a brush skirt, which prevents any water from spraying out from the surface you're cleaning.
PICK UP A PETROL PRESSURE WASHER THIS SUMMER
Now that you know all of the benefits that a petrol pressure washer offers, it's time to choose the right one for you.
If you're still unsure which model would suit you best, please don't hesitate to get in touch.
You can call us on 01437 700123, email us at [email protected] or use the live chat in the bottom right hand corner!