Grass Trimmer / Strimmer Buying Guide
There's nothing better for keeping overgrown grass, shrubbery and weeds under control than a grass trimmer / strimmer.
Although these are simple machines to use and maintain, there are many options on the market and we often find ourselves giving buying advice to confused customers.
We've compiled all of the most common questions into this one handy guide to grass trimmers / strimmers.
GRASS TRIMMER OR GRASS STRIMMER – WHAT'S THE DIFFERENCE?
Put simply, absolutely nothing.
A grass trimmer is the common term in the professional markets, whereas grass strimmer is a more of a colloquial term.
When it comes to design, performance and intended use, they're identical.
In fact, you'll find most manufacturers now call their machines a 'grass trimmer / strimmer' to avoid confusion.
A VERSATILE TOOL FOR MANY GARDENING TASKS
There are seldom few tools more useful than a grass trimmer when it comes to gardening.
They're low cost which keeps the barrier to entry very low, and even the entry level models will be suitable for all but the toughest of jobs.
A grass trimmer can be used for anything from tidying up overgrown grass around flowerbeds, to clearing entire areas of dense shrub.
Not only will this help you complete your gardening tasks quickly, it will prevent you from getting fatigued – something that anyone who has ever spent time on their knees with a grass shear will truly value.
Believe it or not, petrol grass trimmers pack enough punch that they can even cut an overgrown lawn down to size, providing the garden is of modest size.
For larger gardens, we always suggest investing in a lawn mower alongside a grass trimmer, but for smaller gardens a petrol grass trimmer should suffice.
HOW DO THEY WORK?
A grass trimmer head features a nylon cord (metal blades are more commonly found on brushcutters) which is spun at extremely high speeds to cut through grass and vegetation.
On some grass trimmers, you will need to replace this cord manually when it gets worn out; however, many have an internal cord spool which feeds additional cord out when required. This is usually prompted by a button (manual feed) or by pressing down on the cutting head with medium pressure (bump feed).
With both manual and bump feed, you will need to replace the cord spool when you use up the full length of cord, but this is much less of an inconvenience than opening up your cutting head every time the cord gets damaged to extend it.
KNOW WHAT TO LOOK FOR
There are many features that will vary depending on the model of grass trimmer / strimmer you're looking at.
These include: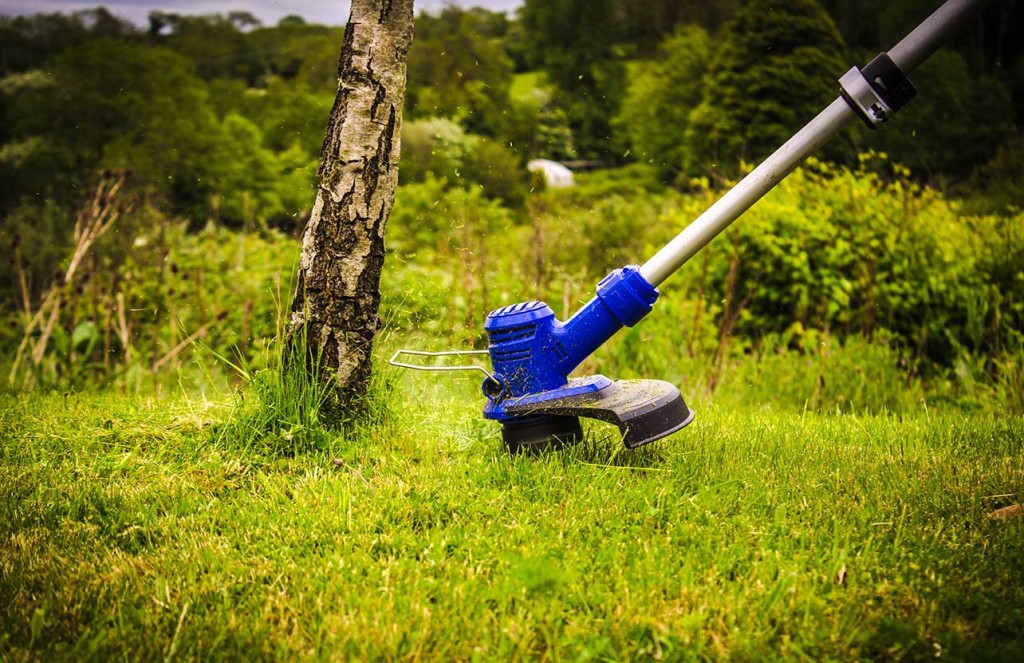 The length of the shaft
Type of cutting head
Petrol or battery-powered
Type of hand grips
Included accessories (harness, fuel bottle, etc)
Suitable application
The power of the engine or battery
Extra functionality (brushcutter)
PETROL OR BATTERY POWER?
Traditionally, grass trimmers were always powered by petrol engines, ranging from 26cc to 56cc. These are still the most common types of grass trimmers.
However, in recent years, battery-powered grass strimmers have greatly increased in popularity.
So which one is right for you? To a degree, this will depend on your personal preferences.
Petrol grass trimmers are still the cheapest available on the market, which is good for your wallet, and in terms of raw power they're still ahead. They are heavier, louder and require frequent refuelling with 2-stroke fuel, however.
Battery powered grass trimmers are continuing to get more powerful, commonly powered by 18v and 36v lithium-ion batteries. These are lighter, quieter and have fast charging batteries; however, they're more expensive and it does require you to be near a source of electricity.
For us, the price of petrol grass trimmers slightly edges out battery grass trimmers; however, for some users, the added benefits of battery grass trimmers are worth the additional cost.
MAKE SURE YOUR GRASS TRIMMER IS COMFORTABLE
Before you use your grass trimmer for the first time, make sure you adjust it so it's comfortable to use.
If you have an adjustable shaft, extend it so that you can use it without bending over too much. Even if you're tall, you should find most modern grass trimmers can extend to a comfortable length.
Some grass trimmers also feature adjustable handles, which allow the user to find the comfortable spot for holding it. This is especially important if you plan on using your grass trimmer for extended periods of time.
ALWAYS STAY SAFE
When purchasing a grass trimmer, you should also consider if you have the appropriate safety equipment to go with it.
In general, a grass trimmer is a safe piece of garden machinery. However, when dealing with any petrol-powered machine, you should always take precautions.
Make sure you have:
Safety goggles to protect your eyes from flying debris.
Ear defenders if you're using a petrol grass trimmer.
Suitable footwear in case of sharp or dangerous objects on the floor.
Gloves for extra grip and for handling shrub that may include brambles and thorns.
COMBINE IT WITH A BRUSHCUTTER
For marginally more than a dedicated grass trimmer, you can purchase a grass trimmer / brushcutter which will feature an interchangeable cutting head.
Not only will you get a 2-string nylon cutting head, you'll also get a 3 or 4 tooth metal cutting blade which you can attach instead.
A grass trimmer / brushcutter is the ideal machine for anybody who needs to cut through thick weeds, shrub or overgrown grass which may pose too much of a challenge to a grass trimmer's nylon cord.
Although a brushcutter won't be a requirement for everyone, if it's possible you'll need to cut through dense vegetation, it's worth spending a little bit more now to save having to invest in a second machine further down the line.
If you really want to be prepared, you could even consider buying a multi-tool, which also features a chainsaw, pole saw and hedge trimmer.
Find the right grass trimmer / strimmer today
Now you know the most important aspects of owning a grass trimmer / strimmer, you're ready to browse our selection to find the one that suits your needs best.
If you have any additional questions and would like to talk to use, you can call us on 01437 700123, email info@thepowersite.co.uk or use the live chat in the bottom right hand corner.
Once you've purchased your grass trimmer, be sure to reference our grass trimmer maintenance guide.