A Guide To Electric Submersible Water Pumps
An electric submersible water pump is designed, as the name suggests, so it can be completely submerged in the water or liquid that you need to pump.
Although they boast less pumping power than petrol or diesel water pumps, they are extremely popular for many commercial and domestic pumping requirements.
We know that the choice between a petrol, diesel or electric water pump can be a confusing one, so this guide aims to highlights the features and benefits of an electrical submersible water pump.
Smaller and Cheaper
To start with the most obvious advantages, electric submersible water pumps are much more compact than petrol or diesel powered water pumps.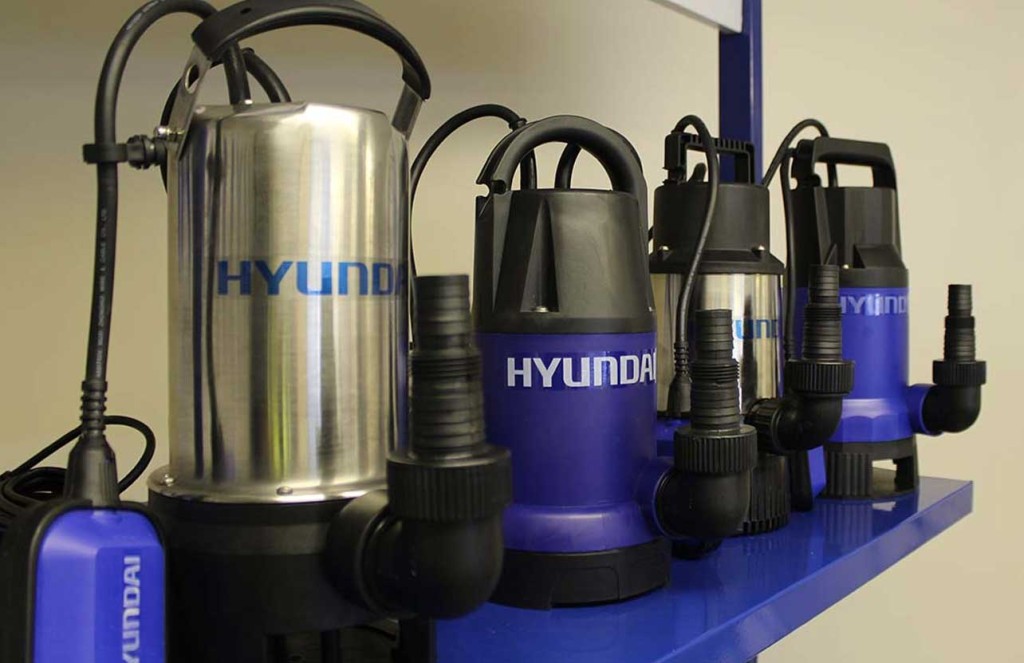 Weighing as little at 5kg, they can be easily transported and stored in small spaces, and this makes them idea for users who wish to avoid straining themselves with larger, heavier equipment.
Another bonus is the fact that the price is also significantly lower. Just compare our entry level submersible water pump, the HYSP250C, to the entry level petrol water pump, the HY50, to see the difference in price.
Although the difference in pumping capabilities is vastly different as well, for users who don't need the full power of petrol, the savings are hard to argue against.
How Much Can They Pump?
We've already mentioned that the pumping capabilities of an electric submersible water pump is less than petrol or diesel powered pumps; however, they are still capable of transferring a large collection of water quickly.
Starting at 6000L/hr, and going up to 15,000L/hr, a submersible water pump is more than sufficient for all but the most demanding pumping requirements.
Depending on the model, submersible water pumps are also capable of pumping large particles.
We would always recommend a dirty water pump for any outdoor use, as these water sources are more likely to have debris in them.
The more liquid a pump can transfer, the more power it will require to run. A submersible water pump can run on as little as 250w, or close to 1000w.
We would suggest you don't worry too much about the energy requirements of a pump, since they pump so effectively and efficiently that you won't need to keep them powered for too long before the job at hand is complete.
In general, the running costs of an electric submersible water pump are very low.
Impressive Reach and Easy To Use
Since submersible water pumps are powered by electric, you will need a nearby power source to keep them running. Thankfully, the cables are long enough to provide impressive reach without hindering you.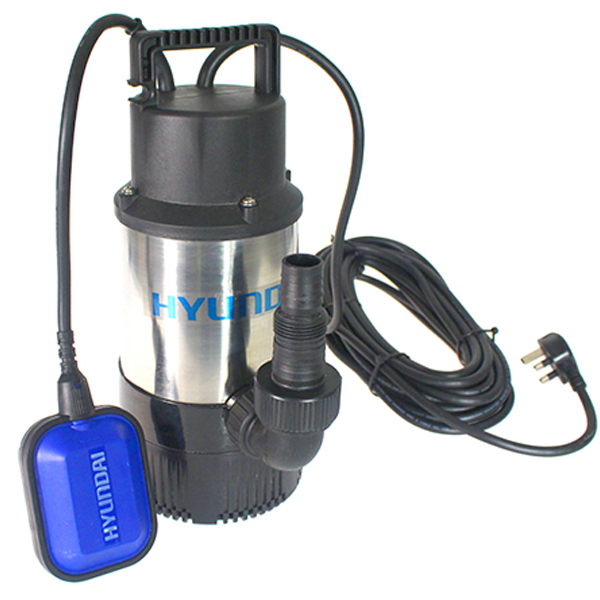 All Hyundai submersible water pumps are fitted with a 10m cable, and if you have a particularly large house or garden, it's perfectly safe to pair a pump with an extension cord for increased reach.
Once plugged in, you simply need to place the pump in the water source you wish to transfer, and you're ready to go.
You don't need to worry about monitoring water levels if you're aiming to drain a source completely, as submersible water pumps have float switches attached which automatically stops the unit if the water levels fall too low.
When using a submersible water pump, we always recommend the use of an RCD (Residual Current Device) to ensure your safety. These pumps are built with waterproof power cables; however, you should always go the extra mile to minimise the risk of electrocution.
Ideal For Indoor and Outdoor Applications
Because submersible water pumps don't produce poisonous carbon monoxide gas, they're perfectly safe to use indoors, making them ideal for draining cellars, cisterns, sinks, baths and fish tanks.
They also produce a very low noise level, allowing you to use them without disturbing those around you.
Outside, electric submersible water pumps can be used for pumping fish ponds, drains, wells and large collections of water.
In recent years, these pumps have become exceptionally popular in the gardening markets, and anyone with a water feature should consider a submersible water pump an essential investment.
Buy an Electric Submersible Water Pump Today
Now that you know all of the features and benefits of an electric submersible water pump, you can view our full range in the water pump section.
If you need any assistance, please don't hesitate to contact us on 01437 700123.